Resident Happiness starts by having a trained and knowledgable workforce that have the tools in their toolkit and the confidence to implement engagement strategies.
Most webinar series out there are provided for senior leaders rather than for our frontline workforce. To support our objectives to improve resident happiness, CarePage is running a free ten month webinar series specifically for Lifestyle Managers, PCA's and Diversional therapists.
It will provide Lifestyle Managers, Diversional Therapists and PCA's an opportunity to learn new, positive resident engagement strategies from a variety of engagement experts in different fields.
The purpose of each webinar will be to provide frontline workforce with tangible strategies for them to use immediately in their homes. Frontline workforce play a critical role in ensuring residents happiness, yet often they don't have the time or are they afforded the opportunity to hear from experts in the field to help them reflect, consider and adapt their current techniques. The overall goal for this 10 part series is to up-skill their workforce so they have additional tools in their toolkit and ultimately improve resident happiness.
Each webinar will be streamed monthly at no cost to attendees. Those who register will also have access to recordings of each webinar which will cover the following resident engagement topics:
Awakening: Strategies for re-engaging residents that have become withdrawn (August)
Art Therapy: Tips to help residents express themselves through art (September)
Music Therapy: Music engagement techniques that go beyond pressing 'play' (October)
Dementia: Creating connections throughout the stages of cognitive decline (November)
Community: Leveraging local services to improve resident experience (January)
Tech Talk: Tips for bridging the tech divide for seniors to promote connectivity (February)
Fitness: Implementing exercise programs that encourage participation (March)
Self Determination: Empowering residents to take control of their care (April)
Culture Care: Considerations when caring for culturally diverse residents (May)
Resident Insight: Understanding the effects of engagement on care recipients (June)
Ongoing reforms to the sector which focus on consumer experience has made the upskilling of staff engagement strategies imperative to future proofing aged care organisations.
Micro-learning in the form of monthly webinars will provide staff with valuable resident engagement education that can inform practices and increase the likelihood of positive experiences for care recipients.
In addition, webinar attendance will also count towards continual professional development (CPD) points due to the wealth of knowledge and potential for skill development.
Webinar 2 – Drawing on Dementia: Harnessing resident creativity to combat negative emotions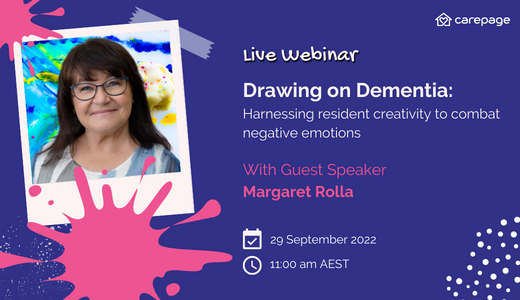 In the second part of CarePage's Resident Happiness Microlearning webinar series, creative engagement specialist, Margaret Rolla, will showcase a variety of artistic strategies that were developed to excite and engage people living with dementia.
Through her hard work and commitment to improving senior wellbeing, Margaret has developed innovative art-based programs that assist carers and lifestyle teams in fostering resident happiness through artistic pursuit and creative exploration.
The areas being covered will include:
Margaret's Motivation
Why Drawing?
Drawing on Dementia
Harnessing Resident Creativity
Far Reaching Outcomes
Join Margaret and your webinar host Jakob Neeland from 11.00am September 29. Those who register will also have access to a recording of the webinar on demand.