CarePage Business, a 360-degree Customer & Employee Experience software provider for the health and aged care sectors, announces its latest release – version 2.o.
Building on the core features of version 1.0, and co-designed with industry, v 2.0 includes four new modules and a host of features to help providers improve the quality of care, resident/patient and customer experience, and drive a more engaged workforce.
Each module has been designed to address a specific customer need or challenge faced by care providers.
The new modules include:
CX and EX surveys – customer and employee experience surveys, designed to ensure that feedback is sought from all customers and residents regardless of their cognitive ability, as well as their care workers

360 Degree Tickets – A custom-built feedback and complaints management system for the sector

Social Chat – Third-party review aggregator to enable the efficient synthesis of external reviews and sentiment

PCI – Plan for Continuous Improvement module supporting compliance with government regulations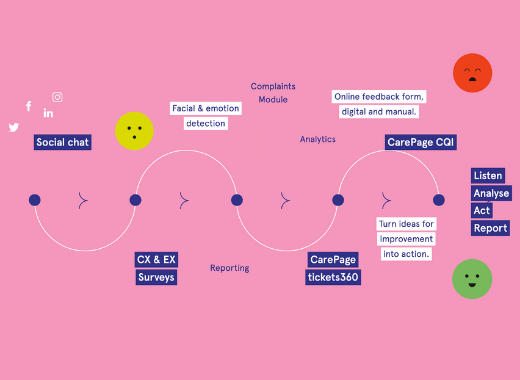 Lauren Todorovic, CEO of CarePage says, "The challenges facing the health and aged care sector are unique, and the need for real-time feedback has never been greater.
"But data collection is just the beginning. It's important to find productive ways to translate feedback insights into meaningful changes for residents and teams. And that's where I've typically seen providers fall down".
In addition to the new modules, the latest release includes innovations in data analytics, monitoring, and reporting, addressing specific sector needs and requirements to ensure time-poor providers can easily identify issues and move to rectify them quickly.
Other highlights include:
Benchmarking (never before has this been available on consumer quality metrics)
Data interpretation against the quality standards
Ability to segment data based on impairment
Survey questions specifically designed for residents with dementia
This release ensures providers are not only well equipped to meet the reporting standards of the sector, but go well beyond in measuring and improving customer, resident and employee experience.
Also, importantly, to enable complaints to also be addressed in real-time and ultimately improve the quality of care.
Get in touch to find out more.